About Ryan Air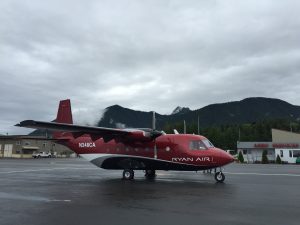 What we do
Like everyone in Bush Alaska, we depend on air cargo. Started in 1953 in the small village of Unalakleet, Ryan Air remains a family and native owned company managed by the third generation of Ryan family. In Bush Alaska, where air service is the only way to receive and send furniture, clothing, food, medical supplies and more, the runway is a community's lifeline. Ryan Air, an Alaska Bush carrier for more than half a century, is a familiar sight in Alaskan villages. Air cargo shipping is our primary business. We have honed our operation around a specialized area of expertise. As a result, we take more freight to more places than any other Bush carrier in Alaska
Our history
1953
Unalakleet Air Taxi was founded and Wilfred Ryan Sr. begins regular charter flights across Alaska. He flew all the flights for his popular air service. With assistance from his wife Eva, their business prospered.
1960
Wilfred Ryan Sr. hires a pilot and begins handling Alaska mail delivery between Unalakleet, St. Michael, Stebbins and other communities along the lower Yukon River.
1977
In 1977, Wilfred Ryan Sr. died of cancer. His son, Wilfred P. Ryan Jr., known to friends and associates as "Boyuck" took over the family business.
1979-1989
Boyuck took the company, now known as Ryan Air, from a small, three-plane, two-pilot operation to the largest commuter carrier in the state, with a new mission of providing air cargo service in rural Alaska markets.
2010
Today, Ryan Air is one of Alaska's key Bush freight carriers, operating 14 aircraft out of seven hubs. We serve over 70 villages and employ over 90 people. And we're 100% focused on providing cargo and mail delivery in Alaska's Bush.
2011
Ryan Air purchases Pilatus PC-12 and begins offering passenger charter service based out of Anchorage.
2013
Ryan Air celebrates 60 years of operation this year, a testament to the vision of the Company's founders and the dedication of its team.
2014
Ryan Air begins scheduled passenger service serving the Aniak Region.
2015
Ryan Air begins operating 5th CASA, and continues to have the highest number of flights and flight hours in the worldwide CASA fleet.
2017
Ryan Air adds 2 SAAB 340s, based in Anchorage, to their fleet.
2019
Lee Ryan appointed as President of Ryan Air Inc.